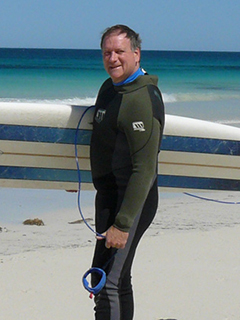 Larry Simon
Advisory Panel Member
Larry studied the topics Biology, Geography and Physical Education in Germany to follow his calling as a teacher for secondary schools. His passion in teaching combined with an interest in other people's lifestyle and culture took Larry on a two year adventure to Lagos in Nigeria. At the National Institute for Sports Nigeria, he lectured mature age students in Physical Education and Sports Management. The project focussed on utilising sports to get juveniles off the streets and into an environment breaking the vicious cycle of homelessness, violence, crime and drugs. It was in Nigeria and after visiting the Lagos slums that Larry decided to dedicate part of his future life to helping those in need.

Over the years Larry has travelled the world and enjoyed the experience of a variety of cultures, religions and societies. Finally Larry made Australia his permanent home country. Larry changed his career path from being a teacher to becoming a specialist in Information Technology. He acquired an Advanced Diploma in Leadership and Management from the Australian Institute of Management and the University of Western Australia.

After having assembled a myriad of technical as well as managerial qualifications and certifications Larry is now a member of the ICT Manager and member of the Executive Management Team of a major Australian Not-Fot-Profit government sponsored organisation in Canberra and is in charge of the computer network and communications technology infrastructure.

Having been in senior management positions for over 30 years Larry has a vast experience in management, project management, strategic as well as operational management and leadership.

His leisure time pursuits are scuba diving, tennis, surfing and learning the Thai language.

Larry is looking forward to contribute to the development of the Skills for Life Foundation an organisation he trusts has the capability of providing a new start in life for underprivileged young people.